Wellington-based Johann Nortje contributes to interactive WW1 memorial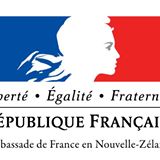 Still (2015) is an interactive WW1 memorial that invites audiences to explore the duality of war: the destruction of lives and the construction of a collective future. Presented simultaneously in Poitiers (FR), Auckland and Christchurch, Still offers an opportunity to connect with people from countries involved in the First World War, 100 years ago.
Participants stand still in front of the main screen; their face is captured in real time and added into the collage of faces from around the globe on the screen. This artwork draws both from a pool of faces that continually grows as more people interact with the work, and in additional there is an existing pool of archive images featuring people photographed at the time of WWI. Alongside the visual memorial there is a WWI inspired soundtrack. However, both the artwork's visual and audio elements can change dramatically in response to a person's movement and be replaced by a collection of dark geometrical shapes and a more aggressive soundtrack.
The creative team behind Still includes Wellington-based interactive performance media and digital experience designer Johann Nortje, and composer and sound designer Tane Upjohn-Beatson, with the collaboration of creative coder, Joe Dixon.
Still is a creation by Auckland Live and Colab/AUT in association with Christchurch Arts Festival and Lieu Multiple (FR).
Exhibition dates
Auckland / Digital Art Live / 3 to 26 September / Level 2, Aotea Centre
Christchurch / Christchurch Arts Festival / 3 to 13 September / Canterbury Museum
Poitiers (FR) / Lieu Multiple / 3 to 26 September / Salle Galilee
Source: http://www.ambafrance-nz.org/