Hypnotist Gerard V Comedy Show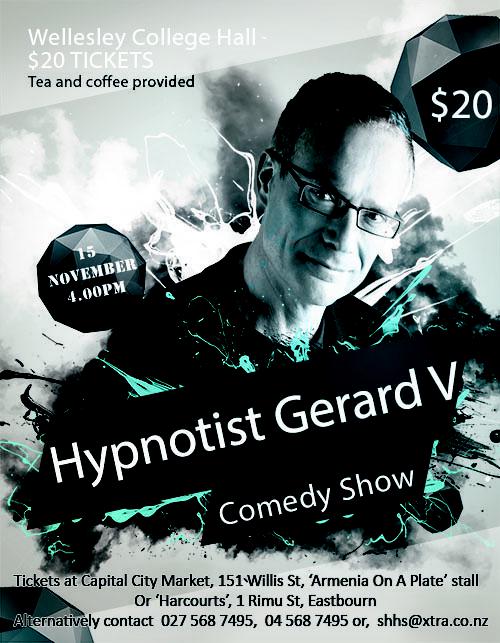 Head along to the unmissable Hypnotist show November 15th for an absorbing one and a half hour family show you will never forget. Take advantage of this opportunity to get involved in the amazing phenomenon that will throw all your scepticism out the door; it really works! Be victim to or watch in awe as audience members are snapped into a deep trance and perform Gerard V's suggestions. You will find yourself in fits of laughter as friends and family members are immersed in their own worlds'.
Hosted by the Armenian Association, this fundraiser has all proceeds going towards erecting a "khachkar" – a memorial to commemorate the Armenian Genocide. We invite you to please support having this goal become reality. The khachkar is a tall stone carving, an Armenian icon, which will benefit all Wellingtonians by representing our cultural diversity and bringing additional attraction to the city.
Event Details
15 November, show begins 4:00pm
Wellesley College Hall
611 Marine Drive, Days Bay, Eastbourne, Lower Hutt
Tickets
Adults (15 & up) $20
Children (6-14) $10
5 and under free
Please contact Marina:
+64 27 568 7495, +64 4 568 7495, shhs@xtra.co.nz
Otherwise, ticket sales may be directly purchased from:
"Harcourts" Eastbourne, 1 Rimu St, Eastbourne, 562 8008; or
"Armenia on a Plate", Capital City Market Food Court, 151 Willis Street, Te Aro (from Tues, Oct 20).