Be | Longing. A Play About The Experiences Of Migrants In New Zealand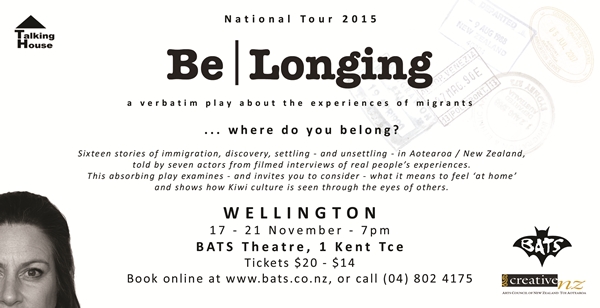 'Be | Longing', is Talking House Trust's highly relevant and acclaimed verbatim play about the experiences of migrants trying to make their way in New Zealand. It's at BATS Theatre for a limited season from November 17 - 21.
Be | Longing was created in 2012 from filmed interviews with 16 migrants from all over the world describing their experiences - good and not so good - of seeking new lives in New Zealand, having to find ways of dealing with an 'empty land', strange customs, cold houses, people staring. All of these lovely people who were prepared to share their stories with us were living in Dunedin at the time.
Last year, Be | Longing's creators re-interviewed most of the original participants about their views on their New Zealand lives two and a half years 'down the track'. And so a post script, which audiences on this national tour are finding compelling and highly satisfying, has been added to the original piece. Critics and audience members have called the play 'totally absorbing' and 'a revealing insight into the challenges of migrant settlement.'
Be | Longing, which is presented in an intimate and informal style by the seven actors, is 80 minutes long.