French designers featured at the Lux festival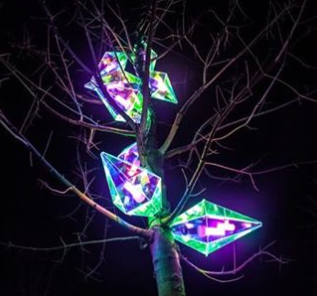 French designers have been selected to have their lightworks featured as part of the Lux festival, showing on the Wellington waterfront from August 21st to 30th. Both pieces VS 300 (Visual System) and Crystal Forest (Pitaya Design) are amongst 35 light sculptures and interactive installations to illuminate the capital for 10 days.
Crystal Forest by Pitaya Design
The installation will take the shape of an urban crystal forest with a lot of colours and will play with the light during daytime and at night. During the day, a lot of colours are projected by the sun on the plaza, and the colour of the material seems to change depending on the observer's sight. As night falls, all the colours are revealed in a more atmospheric way.
PITAYA Design is a creative studio founded by David Lesort and Arnaud Giroud in 2006. Light is the main theme of their work and the duo explore the dynamic relationship between light and object through different types light sculptures and art installations. They use light as a versatile material that reveals and shapes the forms of their objects.
VS 300 by Visual System
VS 300 is the latest work from French art and design collective Visual System.
VISUAL SYSTEM is a collective of designers, artists, architects, sound designers and coders, formed in 2007. Their projects are guided by reflections on the use of media in the city of tomorrow. Participation and interaction are key elements within their work – involving the audience as co-creator while employing light and sound as spatial and spectral tools.
Article source: http://www.ambafrance-nz.org