70th Anniversary Celebration of the United Nations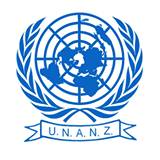 His Excellency, Lt Gen The Rt Hon Sir Jerry Mateparae, GNZM, QSO Governor-General of New Zealand and Lady Janine Mateparae are hosting the 70th anniversary celebration of the United Nations at Government House on 22 October 2015 between 5:30 - 7:30 p.m. The United Nations Association of New Zealand invites you celebrate this special event. Please contact office@unanz.org.com to book and for further details.
United Nations Day is an occasion when UNANZ can celebrate New Zealand's position in the United Nations and what it has achieved. It represents its commitment and active role on the international stage to human rights and global issues and further strengthens relations with other members. In 1945, New Zealand was one of the first signatories to this, the mightiest instrument for creating peace that humankind had ever devised.
The United Nations Association of New Zealand (UNANZ) is the people's movement for the United Nations in New Zealand. It promotes and supports its aims and objectives. It is committed to the ideals embodied in the UN Charter, and Universal Declaration of Human Rights.